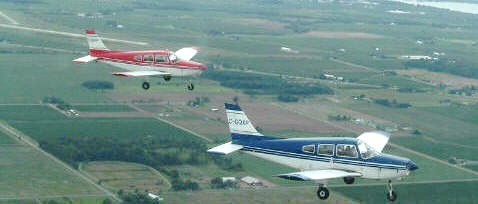 The great thing about learning how to fly at the St. Catharines Flying Club is that it can be as simple or as extensive as you'd like to make it.
If you're looking to be a Private Pilot and enjoy the convenience and fun of taking friends and family flying, the process isn't complicated. With our Online Ground School you'll have the convenience to learn to fly in your spare time.
However, if you'd like to expand your knowledge into flying at Night or using Instruments, or if you're thinking of a career in aviation, you can get your advanced ratings at the St. Catharines Flying Club to enjoy greater freedom of flying or to move towards your Commercial Pilot Licence. Our Online Advanced Pilot Ground School will help you make this process more convenient and efficient than other aviation schools or flying clubs.
The St. Catharines Flying Club offers professional flight training by our staff of highly experience pilots who are some of the best Flight Instructors in Canada. Since 1928 we've been more than just a club for aviation enthusiasts, and you can be sure that when you take your flight training at one of our multiple locations in the Niagara Region, we are here to help you achieve your aviation goals and to help you along the way.
GETTING STARTED
If you are considering enrolling in flight training, for only $75.00(plus HST) you can take to the skies at the controls of an aircraft, with our familiarization flight.
You will sit in the pilot's seat and have the thrilling experience of taking control of the aircraft under direct supervision of one of our qualified flight instructors.
The familiarization flight is offered at a discounted price to make it an attractive gift idea or to allow the prospective student to experience the once in a lifetime thrill of seeing the world from up high.
This flight can also be purchased as a gift certificate and the flight time will count toward the pilot licence.
Call 905.684.9447 to book your flight.